With last week's release of the all-new Social Club Crew Hierarchies feature, we've seen Crew Leaders jumping to exert their authority and assign rank amongst their mobbed up minions. Crews of all sizes and statures, from perennial top dog Founder LXG Crew down to eager upstarts like the GTA Annihilators, have been busy promoting and demoting Crew members to the positions of Commissioner, Lieutenant, Representative and Muscle. Here's a quick look at how some squads have been parlaying the feature to tighten up their ranks for this fall's planned extended holiday in Los Santos & Blaine County...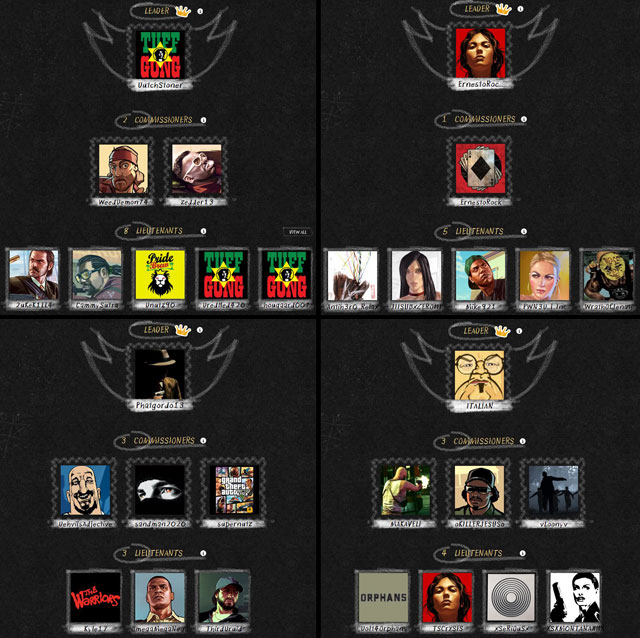 Meanwhile, thanks to newly-christened Leader
Phatgordo13
, the official
GTAForums
Crew immediately started putting on weight in the form of 68 new members, swelling their ranks to a stocky 129 total head count as of press time. Playing his cards a little closer to the vest, he went with a rather modest Hierarchy, sporting 3 Commissioners, 3 Lieutenants and only 2 Representatives as opposed to the traditional pyramid structure we've been seeing. On the opposite end of the spectrum we have Free Aim pro Crew
Slaughterhouse
, keeping their numbers deliberately low at 20 members to keep their constituency lean and mean. Crew leader
ITALIAN
handed out ranks pretty evenly, with nearly equal numbers between Commissioners & Lieutenants and identical billing between Representatives & Muscle. It will be interesting to see how those razor-sharp Free Aim skills translate from Max Payne 3 to the open world of
Grand Theft Auto Online
, and if a need for additional skillsets results in this exclusive Crew taking on more members.
Crew Leaders, Commissioners and Lieutenants, do give a shout in comments below to share your Hierarchy strategy thus far...
RECREWTMENT TIME
One of the more e stinging buzz for the very near future.
The Lost NZ (LOST) Crew
are another group of auteurs who are using the power of the moving image to spread the word of their squad, which you can peep
here
.
While everyone from Leaders to Muscle have popped up here at the Newswire with messages of recruitment, the
Unfair Advantage (UFAV) Crew
have taken the exact opposite approach. As put by Leader
ChunLisBuns420
, "
UFAV is not recruiting, so don't a
sk." Will this tactic make this the most sought after gang in all of Los Santos, or will it instead serve as fuel for rival sets to beat them to a bloody pulp? Time will surely tell.
And while trying to find likeminded Social Club members to Crew up with here in Newswire comments is cool, some Crew leaders have learned that it helps to spread the good word on other social networks as well for results. Seems like
every few minutes
, there's someone on Twitter shouting out or looking for a Crew to align with. If you're lucky, we just might help you out by sharing your recruitment tweet with Rockstar followers worldwide. Such was the case for
AgentP50
, leader of the
182 Brotherhood
(182B) Crew who
we spotted and retweeted
this week – taking his ranks from a relative handful of members to 132 as of press time, in less than a day. Also a shout to
Inbetwixt
, leader of the
657 BOYZ
, whose membership has doubled
in a similar case
. While this will be something we'll only be doing once in a while, it's certainly advantageous to expand your recruitment message via tweets,
Facebook
and even
Instagram posts
to staff up that sick clique for GTA Online.
CREW VS CREW BATTLE

Beginning with a Team Deathmatch at the São Paulo Bus Depot, TERA took an early lead in the first minute. However once FAHQ got going, they proved to be too much for the TERA squad. Five minutes down and with MINI 30 (XBL GT) taking initiative with 18 kills, FAHQ enjoyed a 48-22 lead. From there, the squad never looked back, winning Round 1 with ease 104-71.
Starting afresh for Round 2 in a Gang Wars at Nova Esperança, TERA was looking to get something going. They went toe for bloody toe with FAHQ and with two minutes left in Chapter 1, they were tied at 15. Getting a slow start, MINI 30 picked things up and snapped the momentum away from TERA, helping FAHQ win the first chapter, 37-23. In Chapter 2's Grab the Bag, the two Crews were neck and neck for a while but once again FAHQ just tore it up in the last couple of minutes and took it 101-58. FAHQ wound up taking the last three chapters as well, effectively shutting out TERA for the round.
Down 2-0 and looking to get on the board, TERA broke north for some Team Deathmatch action in Hoboken. Staying within two points almost every step of the way, TERA was in it until the last 45 seconds when FAHQ opened up a slight lead and won 86-83.
sweetnpatient
took top player honors with 20 kills, followed by
JMTAotP
and MINI 30 who each had 17. TERA's
PALADINXD_KSA
and xLdL MASHAKIll2 (XBL GT) each had 22. FAHQ might have backed up all that trash talk with a shutout but respect to TERA for going down swinging. Check out
an archived stream of the full battle
.
TOURNEY TIME
As we mentioned
last time
,
EnigmaAssassin
of the
Ice Cold Assassins Crew (ICED)
and
HOT_KIMERA
of the
HOT CLAN Crew (HOTZ)
hosted an epic 2 vs 2 Max Payne 3 free aim tournament, in which Crews had some of their top players battle it out for multiplayer bragging rights. For several weekends earlier this summer, what started as 28 Crews faced off in best-of-three 10-minute rounds of Team Deathmatch. Tietê River Docks was played in Game 1, Nova Esperança in Game 2 and, if a Game 3 was necessary, that was to be played at the São Paulo Bus Depot.
The final eight (clockwise from top left): TOP GUN PL4Y3RS, FOXHOUND UNIT, GOLD LIONS, Rock Heart, CAP PILLAS, Master of Weapons, ineffable arts and Sub-Zero Killaz.
Round 3 saw the
FOXHOUND UNIT (UNIT)
and
Master of Weapons (SAMA)
Crews take each other on in arguably the most intense match of the entire tournament. SAMA flourished first, winning the first game 25-21. Game 2 was tight to the very last second, UNIT taking the lead to win 25-24. After that, UNIT - never looking back - bounced SAMA right out of contention in Game 3, 41-29.
The
GOLD LIONS (LION) Crew
had been solid throughout the tournament and the semi-finals were no different. Up against SAMA, LION won Game 1 by 25-20 and Game 2 by 38-28. While the
ineffable arts (RED7) Crew
won their matchup against SEXY 2-0, it was a close one: Game 1 was decided in the final moments 27-26 and Game 2's tally was 39-32.
After a month of battle after battle after battle, RED7 and LION were to face each other in the finals for living legend status. From the start, both Crews made it very clear they earned the right to be on the big stage. The squads spent Game 1 trading kills, never letting more than a few points between them.
RED7 took it 34-31 - just one win away from victory. With a seven point lead and around four minutes to go in Game 2, it looked like things were coming to an end. And then, in what could be considered the pivotal point of the finals, LION's Alex_silent stepped up, helping to reverse the lead and secure a 38-27 win. In a Game 3 do or die, LION turned things up a notch and stomped on RED7 55-30. 28 Crews entered, one Crew left - props to the GOLD LIONS for being the last squad standing - we definitely recommend
checking out the highlights
here
.